Soft up close lid stay YS319-U
Hotline: 86-757-82629362
Model: YS319-U
A、Left or right using is achieved B、low temperature resistance oil C、Pass SGS test 30,000times D、Clip-on assembly, easy to instal E、Soft closing with suction, no need to use damper. F、Using with soft closing hinge to get a better function.. G、Own Appearance Design Patent Certificate
Soft up close lid stay YS319-U


---
SGS Certificate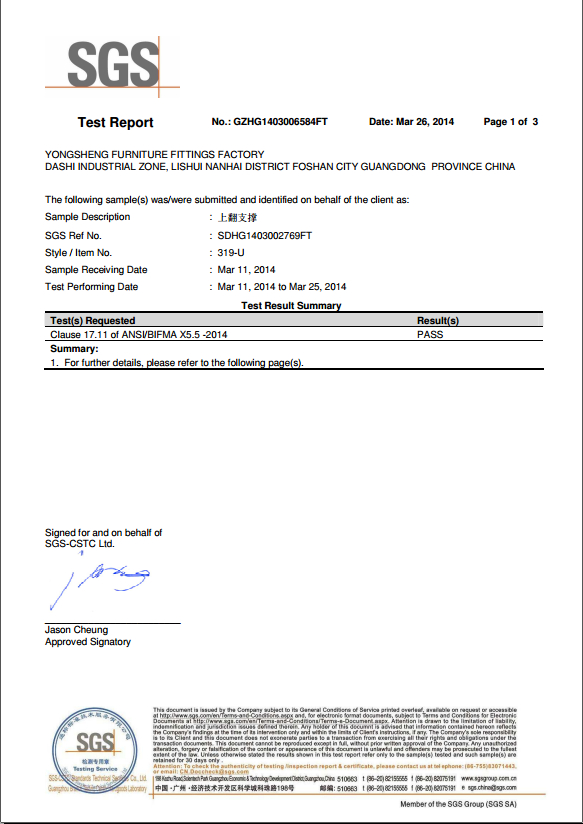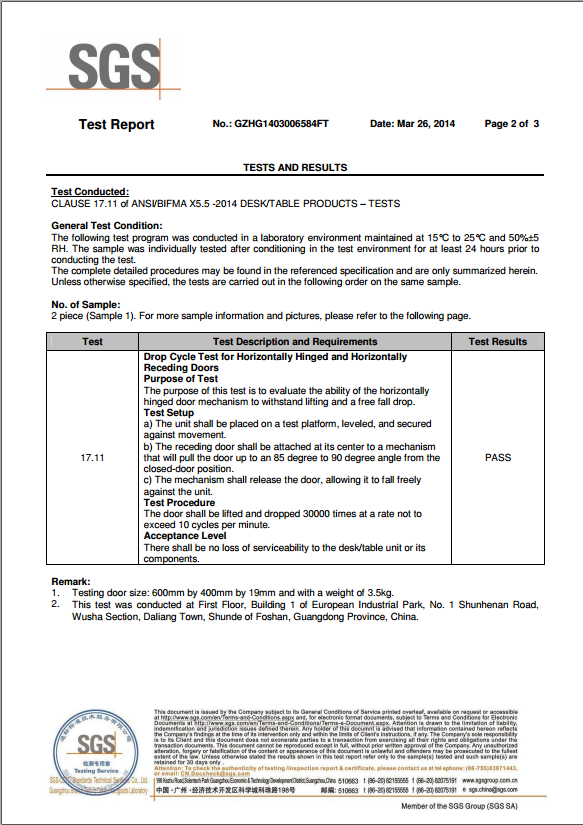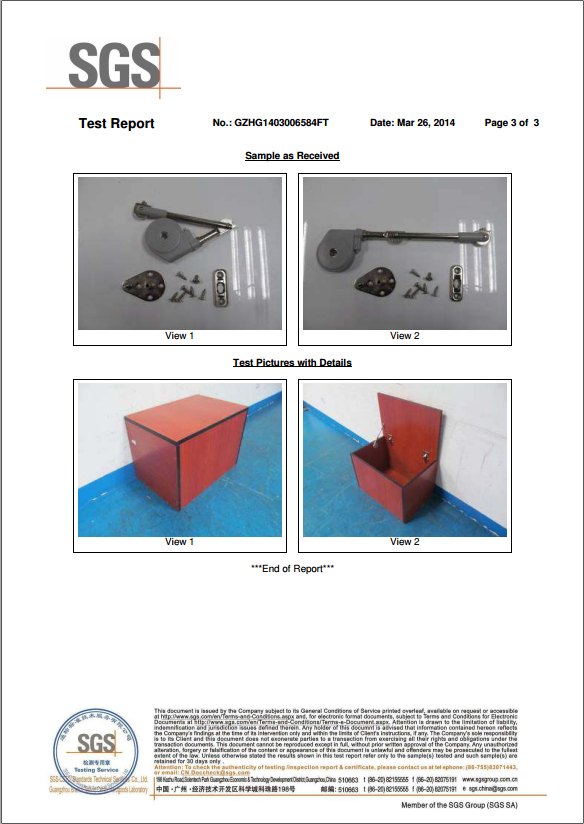 ---
Product Description:

A、Material:plastic POM、Zinc alloy、ZnAI4、 cold-rolled steel Q235、 resistance oil、spring steel 65Mn、brassH62

B、Finish:plated(brass + nickel + sealing) , heat treatment , ultrasonic welding

Features:

A、Soft closing with suction, no need to use soft close damper.
B、Using with soft closing hinge to get a better function.
C、Application: cabinet height:300mm-400mm, load capacity:2.5kg-3.5kg
Product advantages:

A、Left or right using is achieved
B、low temperature resistance oil
C、Pass SGS test 30,000times
D、Clip-on assembly, easy to intal
E、Pass SGS certification with 30,000 cycles.
Product parameters:

paired using when the door height is over 600mm

Others (Packing and services):

Package: 10pcs/inner box,100pcs/box, N.W/G.W: 18.2kgs/19kgs

MEAS: 45cm * 29.5cm * 19.5cm,

Delivery Date: Normally in one month

Samples Preparation: samples can be sent in 3 working days (DHL 3-5days,UPS3-5days,Fedex/TNT 3-5days,EMS 7days reach destination )

Other soft close lid stay
Soft up close lid stay
*

Indicated required field
Inquire: Soft up close lid stay YS319-U
*

First Name:

Please fill in your First Name

*

Last Name:

Please fill in your Last Name

Company name:

Please fill in your company name

Telephone number:
Mobile phone number:

Please fill in your telephone number

*

E-mail:
Country:
Address:

*

Inquire intention description:
Please fill in the quantity and description of

Inquire

products for uniform stocking.
Related News